Description
The SW15TEMAXI Kit hydraulic flange spreader kit includes 2 SW15TE wedge heads giving it a spreading capacity of up to 30 ton.  The kit includes a dual port pump capable of operating both wedge heads simultaneously or each wedge individually.  The SW15TE features an interlocking spreading wedge design with user safety in mind. This design produces a smooth, parallel, wedge movement creating a force perpendicular to the flange faces being separated which eliminates unsafe working conditions, flange damage and spreading wedge failure.
The maximum spreading capacity is 3.3 inches (83.82 mm) with both stepped blocks attached to the wedge head as shown below.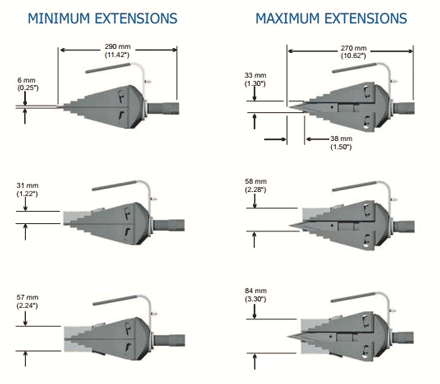 FEATURES
The unique interlocking wedge design features no first step bending or risk of slipping out of the flange joint
This unique design requires a very small access gap of only .24 in. (6 mm) and is capable of producing a gap of up to 3.3″ when using both step blocks.
A total of 15.5 tons of force is available at every step including the first step. Two hydraulic flange spreaders can create 30 tons of spreading force.
Few moving parts means durability and minimal tool maintenance.  Any maintenance is simple and easy to perform on this flange spreader.
A special coating is applied to reduce slippage, further increasing worker safety.
No forces are created that would propel the spreading wedge from the flange like a typical hammered wedge. see IL. 2
A solid sliding wedge between the flange speaker jaws eliminates jaw breakage and the potential of flanges flaming together causing worker harm or equipment damage.
Maxi Kit
2 x SW15TE Flange Spreader Wedge heads
2 x 10,000 psi (700 bar) Hydraulic Hoses, 2 m (78.75″) each
2 x 10,000 psi (700 bar) Hydraulic Cylinders
1 x 10,000 psi (700 bar) HP350D Sealed Hand Pump with Gauges
2 x Safety Blocks
2 x Pairs of Stepped Blocks
1 x Instruction Manual
1 x Plastic Carry Case.
Gross Kit Weight 31 kg (68.3 lbs)
Product Code: SW15TEMAXSPB
Functional
The SW15TEMAXI KIT HYDRAULIC FLANGE SPREADER can be used during
commissioning
construction
routine maintenance
shutdowns/outages
testing
valve change-outs
Special Features
unique interlocking first step
deep 15 mm secure hold on first step
requires access gap of only 6 mm
robust lightweight tool
spreading force of 30 T (155 kN) from 10,000 psi (700 bar) of hydraulic pressure
automatic mechanical retraction
Operating Benefits
secure hold on each step
quick and easy operation
saves time
saves cost
safe operation
portable
Stepped Blocks
2 x Stepped Blocks
2 x M6 x 10 mm Countersunk Screws
1 x 4mm Hex Key
Gross Kit Weight 1.5 kg (3.5 lbs)
This drawing illustrates how forces are applied with the Equalizer spreading wedge. The downward force from the wedge is transmitted in a perpendicular motion to the flange faces. This makes the spreader safe and easy to use.
This drawing illustrates how forces are applied with a standard wedge. The downward force from the wedge is transmitted in a angular motion to the flange faces. This produces a reverse force that try to propel the wedge back out of the flange creating an unsafe environment . This type of wedge will also cause damage to flange face.
EXTREME CAUTION SHOUD BE EXERCISED WITH THIS PROCEDURE.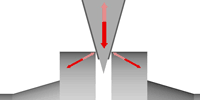 A problem may occur when using a SW15TE Flange Spreader on a flange with a larger gap, for example when removing a blind, valve, or large gasket.  The wedge may protrude far enough to hit the blind, gasket, or other object as illustrated below.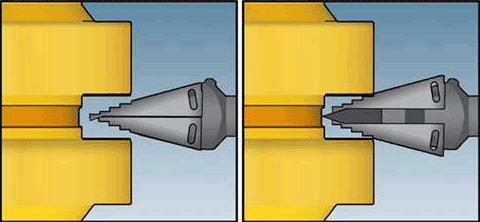 The problem is easily solve by using the step blocks as illustrated below
Customers buy flange spreading tools from us that are easy to use and get the job done safely, timely, with improved productivity.
The SW15TE Hydraulic Flange Spreader is a small, unique, durable tool and is an excellent choice for use on most flanges with an access gap of 0.24 inches (6.096 mm).