Description
Tesi Induction Generators
Tesi Induction Generators, controlled by a microcontrol-based electronic digital system that guarantees continuous and completely automatic monitoring, are the most advanced machines in the industry.
Tesi induction generators are also self-protected, as their main parameters are constantly monitored via high quality sensors and dedicated software, thus preventing failures and assuring high reliability and low maintenance even in the most demanding conditions.  They can operate onshore or offshore.
Thanks to advanced technology, Tesi generators can work either in pipeline construction, in the pre-weld pipe heating and field joint coating arena, or as precision heat treatment units. For heat treatment, the software manages a very precise temperature profile on the work piece.  The control system is very flexible, allowing different heating steps with ease of use and are simple to program.
The optimal ratio between power output and overall dimensions, and the rugged self-contained enclosures make Tesi generators particularly suitable for the rough environments typically found in the pipeline construction field.
Tesi generators can be operated remotely with the remote control pendant included, as standard, on all models.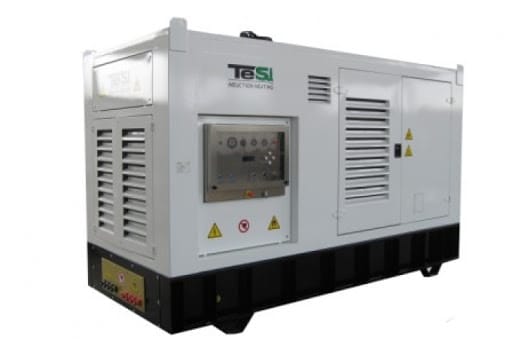 Induction Heating Generators
Self-contained skid-mounted unit
120 kVA and150 kVA high frequency generators
Diesel power / no air
Auxiliary power source
Electronic specifications display
Remote pendant controlled