Our Projects
Proline has provided products for countless pipeline projects across the globe. For any diameter pipeline construction, restoration, maintenance, tie ins or fabrication needs, Proline can fill your equipment, tool and consumable requirements. The following examples are just a few of the projects throughout which you can find Proline provided equipment and supplies.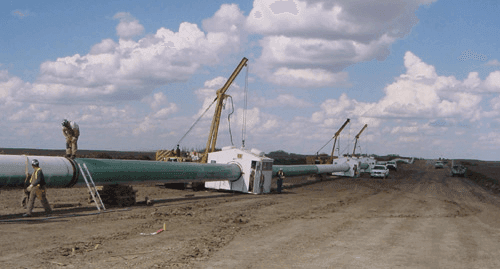 The Duke Energy "Grizzly" Project
Proline was a key supplier of pipeline equipment for the Duke Energy "Grizzly" Project. Duke Energy contracted Surerus Construction of Fort St.John, B.C. and Kendal Pipeline of Grande Prairie, Alberta to build the 16″ natural gas pipeline. Construction of approximately 105 km of pipeline occurred in some of the most extreme terrain and weather conditions known to pipeline professionals. Crossing over northeastern B.C. and northwestern Alberta, the pipeline cost an estimated $55 million to build.
The TransCanada "Chancellor Extension" Project
Another project that Proline equipment was proven was the Chancellor Extension project. TransCanada Pipelines contracted Midwest General Contractors to construct approximately 15 kilometres of 42″ natural gas pipeline in the Hussar, Alberta area. The contractor had to deal with unpredictable Alberta spring weather from rain to sun to intermittent snow storms creating very muddy right of way conditions.
Proline supplied specialized pipeline equipment consisting of a 42″ self contained Hydraulic Pipe Bending Mandrel with remote control operation, 42″ Pipe Facing Machine and Power Unit, 42″ Internal Line-up Clamps with Copper Back up systems installed for use with the customers external automatic welding system.
Alliance Pipeline Projects
PROLINE was one of the main suppliers of pipeline equipment and supplies for The Alliance Pipeline Project. The project involved construction of a 36 and 42″ high pressure natural gas pipeline from Fort St. John, British Columbia, Canada to Chicago, Illinois, U.S.A.
The pipe was welded using mechanized (automatic) welding in the U.S.A. & Canada. There were three (3) Canadian contractors working on the Canadian portion. All three Canadian contractors and one U.S.A. company relied on Proline equipment and/or supplies.
U.S. Pipelines welded the first joint of the Alliance Pipeline Project, using Proline's pneumatic internal copper back-up clamp.
Enbridge Clipper
The Alberta Clipper Project is an integral part of Enbridge's expansion program to meet North America's needs for reliable and secure energy supplies.
Alberta Clipper is a crude oil pipeline that will provide service between Hardisty, Alberta, and Superior, Wis. This 1,000-mile/1,607-km segment is designed to resolve expected capacity constraints and is expected to be in service by mid-2010, complementing the recently completed Southern Access Project as crude oil supplies from Western Canada continue to increase. Initial capacity will be 450,000 barrels per day (bpd), with ultimate capacity of up to 800,000 bpd available.
With supply from Western Canada oil sands developments expected to grow by as much as 1.8 million barrels per day by 2015, the industry has asked for more capacity out of the oil sands and into the U.S. Midwest markets. The request is driven by oil sands producers and refiners that have long development timelines and need assurance that adequate pipeline infrastructure will be put in place in time to serve their projects. Alberta Clipper is a direct response to this request.
The 672-mile/1,081-km Canadian portion of the pipeline from Hardisty, AB to Gretna, MB is mechanically complete. Restoration work is well underway; however, poor weather conditions this fall have delayed completion along some portions of the right-of-way. All remaining clean-up and restoration work will have been finalized as of spring 2010. The line will officially go into service in mid-2010 after the U.S. portion of the pipeline is complete
2009 Right-of-way Restoration Activities
Over the next several months, residents and visitors may notice activities along the pipeline between East Gate, Jasper National Park and Valemount, B.C. These restoration, Department of Fisheries and Oceans compensation, and monitoring activities are important to ensure a positive legacy remains.
Activity levels will be significantly less than during construction, and although activities may be noticeable, we anticipate minor disruption to those in the area. This work may result in short term temporary traffic disruptions; and seeding, planting, weed treatment and restoration monitoring activities may also be noticeable.
Terasen Gas "TMX" Project
Construction of the Anchor Loop is now complete. As of October 30, 2008 the Anchor Loop is in-service. Environmental restoration has been completed on the Jasper section and restoration of the Mount Robson section was completed during 2009. Ongoing monitoring will carry on for several years to come.
Contact Proline to discuss your project requirements.