Description
For thin film coatings the easy-carry and easy to handle SPY Model 780 speeds inspection time with its built in Jeep meter and various other time saving and comfort features. This ergonomic holiday detector incorporates all the features of the previously manufactured SPY Model 715 detector with numerous upgrades and enhancements.
INCLUDED WITH KIT:
2 – 12V Rechargeable Batteries / 1 – 12V Charger / 1 – DC Paddle / 1 – 50 FT Ground Cable /
1 – Electrode Wand w/ Spring Connector / 1 – Shoulder Strap / 1 – Shoulder Strap Handle Clip /
1 – Brush Adapter Kit / 1- SPY® Screwdriver / 1- Shipping / Carrying Case / 1 – Operating Instructions
NOTE: BRUSH AND SPRING ELECTRODES ARE SOLD SEPARATELY
Holiday detector rental and purchase options available.
TECHNICAL SPECS: 
Voltage Type: DC
Voltage Range: 1-5 kV
Voltage Output Accuracy: ±5%
Coating Range (Min-Max): 4-50 mils
Pulse Repitition Rate: N/A
Operating Temperature: –40°F to 148°F
Internal Volt Meter: YES-User Adjustable
Display Type: LCD
Holiday Indicator Type: Audible/Visual
Power Type: 12V Rechargeable Battery
Quick Release Battery*: YES
Battery charge time: Approx. 8 Hours
Unit Weight (w/ battery only): 7.45 lb
Unit Dimensions (w/o battery): 21.5" x 5" x 5.5" (L x W x H)
Unit Dimensions (w/ battery): 21.5" x 5" x 8" (L x W x H)
Domestic/International Standards Unit Complies With: CE, NACE SP0490-2007, NACE SP0188-2006, TM0186-2002
*Battery life is dependent upon selected voltage and load applied. Typical battery life 8 hours.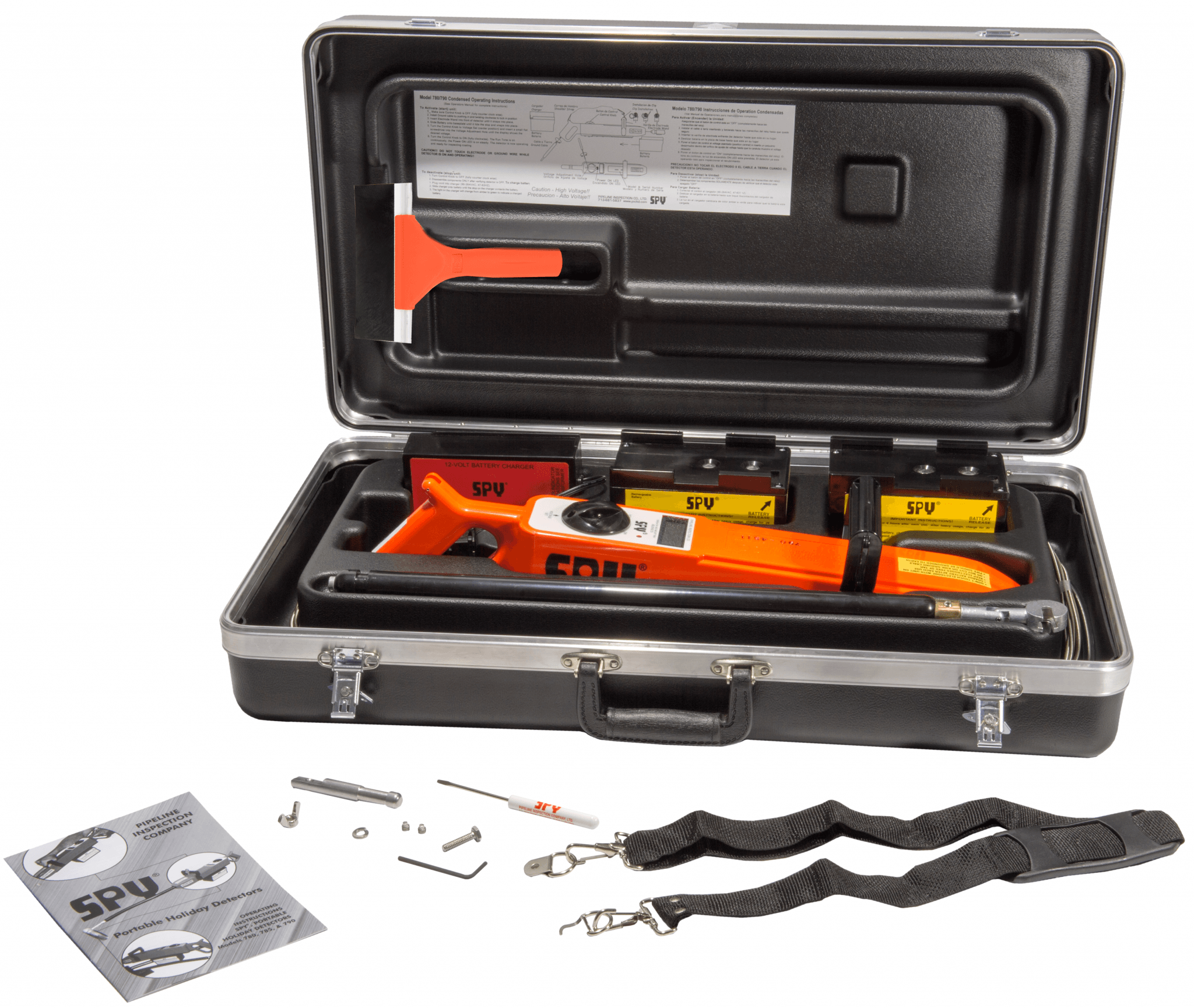 PRODUCT FEATURES:
INFINITE VOLTAGE SETTING allows you to set the voltage exactly to the level you desire for the coating you are inspecting. Not six settings, not twenty… any setting you desire over the complete range of each detector model. Whatever the pipe size, two inches through sixty inches, you have at your control the exact voltage setting required.
AUTO REGULATED VOLTAGE keeps your voltage constant! Over a range of two inch through sixty inch pipe the detector output voltage automatically adjusts under the working load to the voltage levels you set. Now you can forget compensations for pipe size, or moisture on the pipe – the detectors automatically make these adjustments.
QUICK RELEASE BATTERY easily slips into position with a snap that announces positive contact and a secure lock in position. Two batteries and a universal charger are part of the kit. For continuous service, one battery is kept charging (approx. 8 hours) while the other powers the unit.
IMPROVED CONTROL
Horn and light for holiday indication.
Easy carry top handle.
Comfortable ergonomic rear handle.
Infinitely adjustable voltage.
Output voltage automatically regulated.
Quick and easy battery installation.
FAST SETUP. INTELLIGENT OPERATIONS.
Integral Voltmeter to verify voltage setting.
Light cycles off to indicate holiday is present.
Louder audible alarm for heavy equipment environments.
PROVEN RELIABILITY
Lightweight and durable construction with proven leading edge circuitry.
In nite speci c voltage adjustments on the y.
Automatic compensation for moisture.
CARRYING / SHIPPING CASE
Molded ABS plastic construction assures secure weather-proof protection for detector and components. Parts are cushioned in a molded insert. Full-length piano-type hinge, rugged catches.
WEIGHT
Average domestic shipping weight (dependent on electrode size): 35 lbs. Export air shipping weight: about 50 lbs.
If you purchase or rent a SPY Holiday detector and have springs and brushes left over from your old Tinker & Razor or Elcometer detector, we have an adaptor that will fit the SPY wand so you don't have to re-purchase the same springs and brushes a second time.
Adaptor: Tinker & Razor (P/N 13995) or Elcometer (P/N 13996) This will allow your older springs and brushes to fit your new SPY detector.
PROLINE PIPE EQUIPMENT INC. IS A FACTORY AUTHORIZED REPAIR FACILITY