Description
The Ranger II® is an all non-metallic casing isolator/spacer system that uses molded segments to encircle the carrier pipe.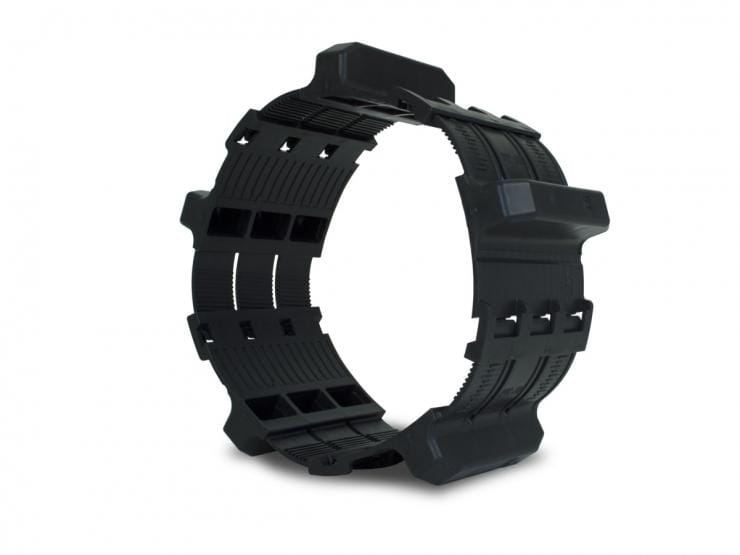 ---
Non-Metallic Casing Spacers® (Ranger-II)
Manufactured from UV-resistant polyethylene
Completely non-metallic with no nuts, bolts, or washers
Light-weight, easy installation
Wide temperature range and low friction coefficient
For carrier pipe diameters from 21mm to 2500mm
Available in a wide variety of runner heights for numerous options for pipe positioning
FEATURES AND BENEFITS
No nuts, bolts, washers or any other metal parts that will corrode or degrade over time
Easy assembly. Simply slide the segments together and ratchet tight with patented Slide-Lock connecting system
Wide variety of runner heights to allow numerous options for pipe positioning within the casing
Manufactured from UV-resistant polypropylene
Wide temperature range
Eliminates sand or grout fill
No special tools required for installation
Low coefficient of friction, allowing ease of installation
Will accommodate small conduit attachment for communications or electrical cable
Runner variations may be used to adjust for grade
Ranger II

®

Non-Metallic casing spacers are stocked to accommodate a variety of pipe diameters and available for immediate delivery.
SPECIFICATIONS
Designed for carrier pipe diameters from 0.83" (21mm) to 37.60" (955mm) in diameter
Impact strength: 1.5 ft. lbs./inch (0.8 joules/cm)
Compressive strength: 3,000 psi (211 kg/square cm)
Dielectric strength: 800 volts/mil.
Recommended end seals: Model R, C, W, and S
APPLICATIONS
An all non-metallic casing spacer system designed to ease carrier pipe insertion with quick installation to last the life of the piping system.
ADDITIONAL INFORMATION
Medi and Maxi segments, 2 molded runners per segment
Segment band and runners molded as one unit
Ranger II@ Spacers should not to be used on concrete carrier pipe.