Description
Each pipe beveling machine is constructed of lightweight, hard-anodized aluminum, assuring durability and easy transportation to every job site. Anywhere you go you will be able to cut and bevel 2″ to 48″ pipe accurately, swiftly and economically, even under the toughest conditions
How accurately? Each ring gear and saddle is precisely machined, assembled and calibrated to ± .025 in concentricity and ± .015 in squareness. Each machine is equipped with a rear-mounted short saddle for cutting and beveling in tight locations. The rear-mounted saddle allows precise back-beveling operations without sacrificing the machine's integrity.
How swiftly? Our machines' unique "split horseshoe" design permits easy placement over pipe sections. A quick-operating boomer assembly secures each machine to the pipe during the entire 360-degree rotation; no repositioning is necessary. Our patented Cuboid Spacer System minimizes downtime by keeping the spacers on the machine. When using our No. 3 Standard Pipe Beveling Machine, for example, a 20?-diameter pipe can be completely cut and beveled in about four minutes.
How economically? Using H & M Pipe Beveling Machines saves weld prep time and money compared to hand cutting. Anyone can make accurate cuts and bevels with just a few minutes of instruction. Easy-to-follow manuals are provided with each machine.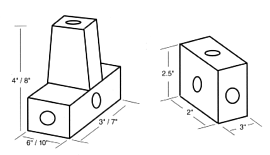 Cuboid Spacer System
H&M's Pipe Beveller Cuboid Spacer System relieves frustration and downtime in looking for lost spacers, because the spacers never leave the machine.
The H&M Cuboid is a six-sided form with rectangular sides. Three specific thicknesses conform to different pipe sizes.  Only four cuboid spacers are used to quickly set up the machine. In the past 12 spacers were required.
The saddle of each H&M Pipe Beveling Machine and the four cuboid allow four specific pipe sizes to be cut.  Each side of every cuboid is clearly stamped to ensure the corrict pipe size. When not in use the cuboid spacers are securely housed on the back of the saddle.  It's a no-lose proposition in time-saving productivity!
Saddle Design
H&M Pipe Beveller achieves function and financial advantages for the customer over its competition by designing the precision saddle and ring gear as separate components.
Instead of locating the ring gear in the middle, H&M places the saddle behind the ring gear, greatly reducing the risk of warping the saddle while back-beveling.
H&M's Pipe Beveling Machines Saddle Assembly is less likely to be damaged; however, if a problem occurs, this separate component design is more economical in replacement costs.